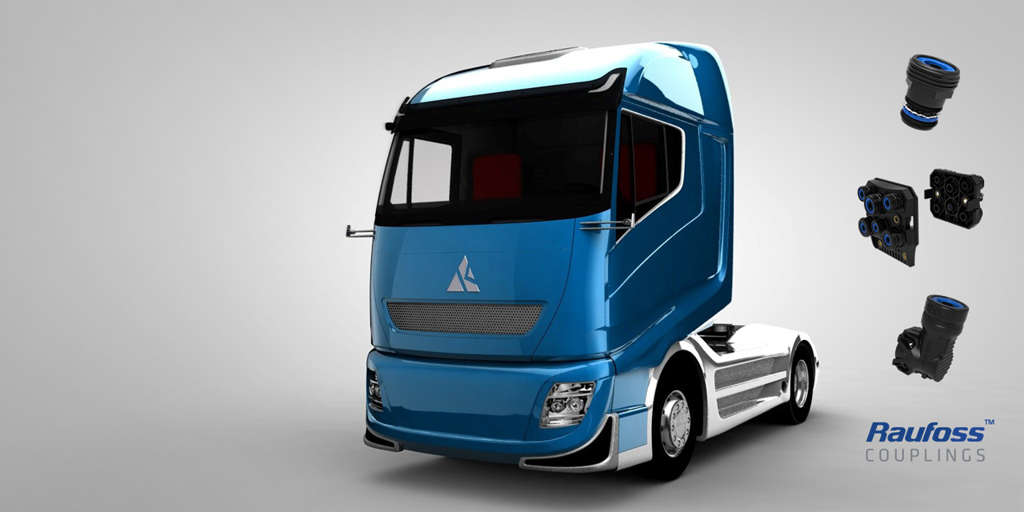 A new way of thinking and building air couplings systems
Optimized braking response
No pressure loss
Protecting the brake system from environmental threats
Integrated safety features like grip then seal and "click" feedback signal

Flexibility
A push-in system that assembles quickly and saves time during production
The couplings can quickly be released when needed
Quick connections and reduced assembly time
One global system that supports all markets (inch and metric)

Sustainability
100% recyclable
Composite materials increase durability
Weight reduction up to 80%
Total system cost reduction
No maintenance
Today's trucks, buses, trailers and off-road applications require the most reliable products available to drive through tough conditions like extreme cold and extreme heat. This requires a new way of thinking and building air couplings systems.
At the KA Raufoss plant in Norway, over 200 people work with developing and producing air couplings for brake systems. More than 2 billion couplings have been sold in the last 30 years.
Distributed under the brand name Raufoss Couplings®, Raufoss ABC™ System is a new generation of couplings.
Market leading position
Raufoss Couplings holds a market leading position in Europe and is working to expand into global market.
"The growing number of leading companies that choose our couplings is a testament to the safety, flexibility and sustainability features of the Raufoss ABC system. We can show savings compared with traditional coupling solutions in both total cost of ownership and weight reduction," says Linda Nyquist-Evenrud, Senior Vice President for Kongsberg Automotive's Couplings business area.
Raufoss Couplings meet all applicable standards for brake systems and are designed and optimized for minimum pressure loss, a lasting, and robust temperature-independent sealing function.
"Our production is fully automated and quality controlled in all operational steps, and we are constantly working to improve our solutions to exceed present air brake safety requirements," Nyquist-Evenrud continues.
Using Raufoss Couplings, customers can choose between complete systems based on push-in tube connections and modular building block system. A wide range of tubes standards and building applications can supply complete brake systems for the Commercial Vehicle segment.
See our products | Contact us | Product Catalogue | Complementary Product catalogue