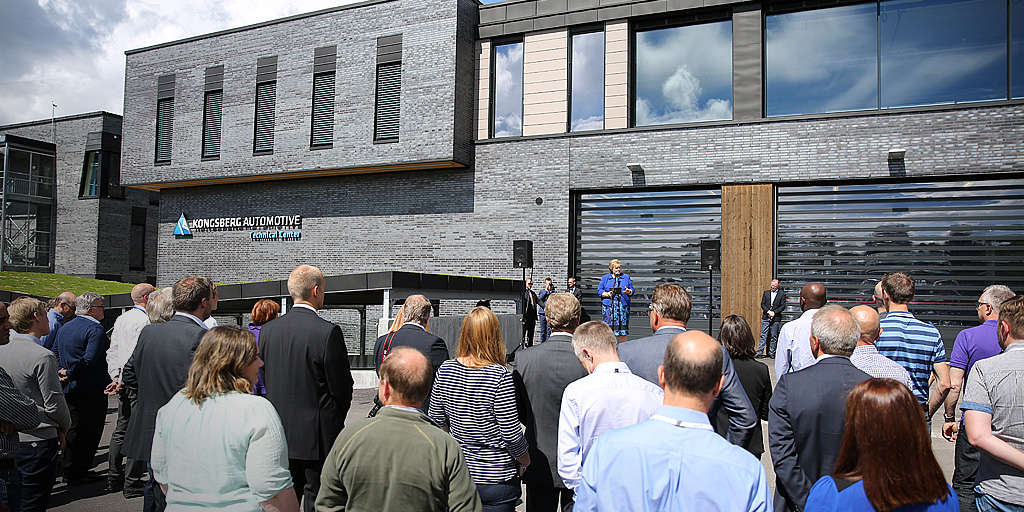 Norway's Prime Minister opened Kongsberg Automotive's new Tech Center in Kongsberg on Wednesday July 6, 2016
The new Tech Center is located next to corporate offices in Kongsberg.
The around one hundred guests who attended the opening ceremony included Prime Minister Erna Solberg, her husband, and members of her staff, as well as KA employees, local and regional authorities and business representatives. They were welcomed with a ceremonial drum performance by traditional Kongsberg drummer group "Bergesellene".
In his opening speech, President & CEO Henning Jensen traced KA's origins and development, from part of the Kongsberg Weapons Factory (Kongsberg Våpenfabrikk) and the particular skills required then, to today's operations and global scale of the company. He also emphasized the great efforts in the Automated Manual Transmissions area.
"The new Tech Center will serve as a competence center in the development of Automated Manual Transmissions systems for commercial vehicles, which is one of the core activities here and an important growth segment for KA," said President & CEO Henning Jensen.
In her speech, the Prime Minister' credited KA for its optimism and the willingness to invest in the future, before cutting the red ribbon to mark the official opening of the Tech Center.
"This shows you have the willingness to invest and great optimism, which is just what we need for the future," said Prime Minister Erna Solberg.
Tour of the new facilities
The PM and other invited guests then took part in a tour of the new facilities, which included presentations about how ideas and concepts are generated, prototyped, then tested and validated – all under the same roof.
The new building comprises testing laboratory, office and engineering space tailored for KA's needs, including R&D department, and offices. Around 50 employees work with R&D engineering and 20 test engineers work in the laboratory.
After the tour, Prime Minister and other guests took a closer look at some of the applications for KA's product. Two trucks from Volvo and Scania were on display. In addition, student project team Revolve NTNU had brought the electric race car "Vilje" to the event. This project is sponsored by KA.
The event was finished with light refreshments and jazz served on the roof of the Tech Center.
Media:
Fredrik Tangeraas, Director, Corporate Communications
Phone: +47 32 77 05 35; Mobile: +47 92464699