Hallbergmoos Office & Tech Center
Germany
Part of Corporate, Interior and Powertrain & Chassis
Address
Zeppelinstr. 4
85399 Hallbergmoos
Germany
Phone: +49 811 99 86 78 0
At a glance
> Centrally located in the heart of Europe, serving mainly the
Interior and Powertrain & Chassis business segments
> Opened in 2011
> One of six KA tech centers globally
> Shop and lab for fixture/tool building and testing capabilities
Kongsberg Automotive GmbH was founded in January 1998, by Dr. Rolf Tropitzsch, the company Headquarters was in Marktredwitz, mid Germany. In April 2009, Dr. Tropitzsch moved the company to Hallbergmoos, south Germany, strategically close to the Munich Airport. Dr. Tropitzsch went into his well earned retirement in December 2011, and Matthias Vogel, Senior Vice President Quality & HSE, was appointed the position of Managing Director, and Susanne Jessacher, Vice President HR Interior, the position of General Manager.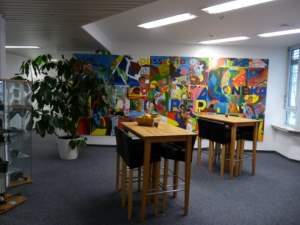 The main focus of the Hallbergmoos Team is to be an interface between the customers and the OEMS. The more than 50 employees in Hallbergmoos, are split into the following departments, Sales, Program Management, Purchasing, Engineering and Marketing. The main product focus in Hallbergmoos is seat heating, seat comfort, gear shifters, pneumatic lumber support systems and side bolsters.
Hallbergmoos is an ideal location as a central meeting location for all Kongsberg employees, and as a conference facility. The office is located 10 minutes from the Munich Airport. The location offers 3 representable conference rooms, all fully equipped, and able to accommodate 8 – 22 people. Hotel Mövenpick is just a short walk away from the Hallbergmoos offices, and offers comfortable rooms, including breakfast for a very reasonable company rate.