Part of Powertrain & Chassis
Address
Building No. 2, Gat No. 312/2
Nanekarwadi
Chakan, Tal. Khed. Dist
Pune - 410 501, India
Phone: +91 2135 667802
At a glance
> Pune is part of the Powertrain & Chassis business segment
> Opened in 2007
> The product range includes air brake couplings, cable gearshift
Systems and recently also started the metal wire braiding of PTFE
hoses
Kongsberg Automotive (India) Pvt. Ltd. was established in 2007 in Pune, some 150km southeast of Mumbai, and became operational in 2008. The facility is a 100% subsidiary of Kongsberg Automotive Holding ASA, Kongsberg, Norway.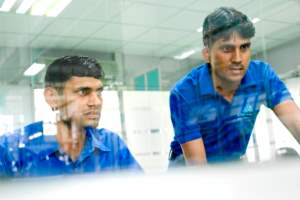 The Pune plant manufactures Air Brake Couplings, Cable Gearshift Systems and recently also started the metal wire braiding of PTFE hose and covers the Commercial Vehicle Market in India with these products. The setup of an assembly line for steering columns for off highway applications is under evaluation also.
Right from the beginning Pune benefited from a huge customer acceptance via technical support and guidance, in time prototyping and committing was has been agreed. The Kongsberg Automotive Global CAD Centre is also located here and a number of qualified engineers provides Kongsberg Automotive worldwide with cost effective design work. Meanwhile a supplier base also has been set up locally which delivers quality components not only for the Pune factory but globally to different Kongsberg Automotive entities.
Directions
The Pune Plant is located in the industrial area of Chakan which is 40 km away from Pune and from Pune airport on the highway to Nashik (Pune - Nashik Highway). It takes 1 hour to reach and the closest landmark is the VW and Mercedes - Benz plant.