Community involvement 2019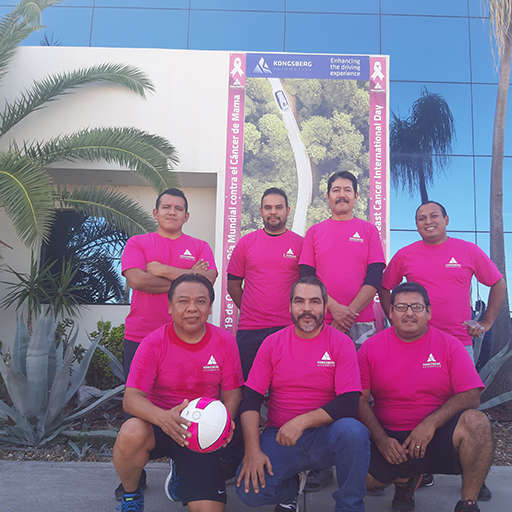 Working for local good causes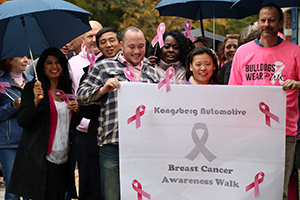 KA employees in Novi, Michigan, took the initiative for a Breast Cancer Awareness Walk in October, in support of the international Breast Cancer Awareness month.
We encourage our plants and office locations to support good causes in their local communities however they can. The effort they put into doing this is inspiring.
The following are just a few examples of what KA plants did in 2019:
Colleagues in the Ramos Arizpe, Mexico, plant collected and donated 160 toys for children with autism and Down's syndrome living at a local orphanage while they wait to be adopted.
The Reynosa team in Mexico worked with a local orphanage for the second year running, supporting the children to learn important life skills that will help them as they come to take their first job.
Colleagues in our Shawinigan, Canada, plant participated, along with nine other companies, in a cook-a-thon to help a home that supports families in need of a helping hand.
KA's plants in Sweden, Slovakia and Hungary all gave employees the opportunity to donate blood by inviting local blood donation services to the plants. As in previous years, the response from the employees was something to make KA proud.
Our plant in Epila, Spain, purchases 60% of its Personal Protective Equipment and work clothes from a local company established to give employment opportunities to disabled people.
Amongst several KA locations, the Willis plant in the US held various events to support Think Pink! Breast Cancer awareness week.
Supporting local students
Many of KA's plants actively support local education centers in various ways to promote engineering as a career choice. Some provide the opportunity for students for practice and projects, while others participate in careers fairs. Other plants offer students the possibility to visit and see manufacturing processes first-hand.
The Ramos Arizpe, Mexico, plant held an event to celebrate their employees' children's school grades achieved in 2018/19. All the children were given a backpack with all the school supplies they needed for the coming school year.
In 2020, KA plants will continue to work with local education institutes. A new initiative through the Normanton plant, UK, which KA will be supporting, is a scheme where employees mentor teams of students from a local school to develop ideas and business case for solutions to sustainability-related problems that matter to the students.
Environmental Initiatives

Many of our plants took the opportunity to plant trees on their land in 2019. Our Jundiai plant in Brazil planted 50 trees and Koluszki plant in Poland began working towards their 2021 target to plant 4,000 trees and put up 40 bird boxes.
In celebration of the International Earth Day, our Nuevo Laredo plant in Mexico planted trees on their premises. They also held seminars with the focus of raising employees' environmental awareness.